Pioneer Event Organizer Sri Lanka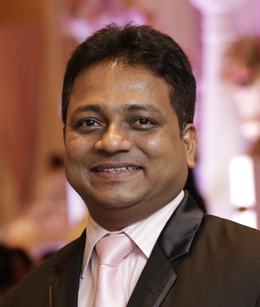 A warm smile and a nod is what it all starts with. Questioning and listening intently, Lasantha gets to know each couple. He has the intuitive instinct to seeing and understanding the dream, each couple has, for their special day.
Then with boundless enthusiasm, he ensures that their day is a true reflection of who they are. It is often very difficult to tell who is more excited about the wedding – Lasantha or his clients. He truly has invested in helping create the vision for the day with no stress, lot of fun, and most of all, has genuinely cared to make it a unique personalized experience.
Since the day he started Siritha Wedding Planner, Lasantha has chosen to define success as something beyond. His vision has always been (and will always be) to raise the standard of the wedding events in Sri Lanka. His goal is to inspire everyone he works within the industry to reach for new levels of creativity and expertise. His mission is to provide the kind of exceptional service that eliminates any undue stress on his clients.  So, they get the greatest amount of enjoyment working together from day one leading to their special occasion. When the big day arrives, his clients feel more confident and assured because of the experiences they've had with him along the planning journey.
And when it's all over Lasantha hopes every Siritha Wedding Planner Client remembers him for being professional, efficient, resourceful and fun to work with, to make it a most memorable day of their lives.